PayPal is a popular online payment system, but there are other options with similar services.
Stripe, Skrill, and Square are some popular PayPal alternatives.
You should focus on the fees when determining if a PayPal alternative is right for your business.
This article is for business owners who are looking for a PayPal alternative for their online payment needs.
Founded in 1998, PayPal has become one of the most commonly used online payment systems in the past two decades. It eliminates inconveniences associated with using paper money or checks, as you can do a lot through its online payment system. While hundreds of millions of active PayPal accounts exist globally and many retailers accept PayPal, there are alternatives out there. This list looks at a few of the best PayPal alternatives available.
Editor's note: Looking for the right credit card processor for your business? Fill out the below questionnaire to have our vendor partners contact you about your needs.
PayPal alternatives
If you are looking for alternatives to PayPal, for either personal or business use, it's important to understand what you want from it. Are you looking for more simplicity? How important is the security of your personal information (credit card numbers, bank account information, etc.) with your alternative? Do you need to make or receive international payments? Will there be a monthly fee? What might be a great PayPal alternative for a local pizza shop owner in Texas might be a less-than-stellar option for a global business based out of New York City.
Skrill
A Paysafe company, this payment method is a lot like PayPal. Skrill has both U.S. and European clients, which makes it particularly valuable if you're spending money in Europe and the U.S. Much like PayPal, Skrill makes security a big focus. It's not complicated to create an account and start using the platform quickly. There are no tremendous differences between Skrill and PayPal, although Skrill might be better suited for international merchants.
Reviews on Skrill are mixed. Much like any company, Skrill has some glowingly positive customer reviews as well as more negative reviews. Sorting through the reviews of any company can be confusing, but it's worth considering Skrill for international payments.
Skrill features
Skrill offers chargeback protection, multiple integrations, a simple API, and advanced fraud management. It allows frictionless payments – you can use the one-tap feature to make repeat payments with a single touch. It also offers a multicurrency account, advanced reporting and analytics, and multilingual customer service.
Skrill pricing
You don't have to pay any fees to send money to a bank account overseas with Skrill – another aspect that makes it a good payment method for international business. Opening an account is also free of charge. An account allows you to use your Skrill wallet online, receive money from a friend, unload funds, send money to an email or Skrill wallet, and use a Skrill Visa prepaid card. Your account will remain free to use as long as you make at least one transaction every 12 months. Otherwise, a $5 service fee applies.
These are some additional fees:
International transfers are 4.99% per transaction.
Withdrawal from a bank account costs $5.50.
The annual prepaid card fee is $10.
Stripe
Stripe is our choice for the best online credit card processor for online businesses. It integrates with Shopify, Wix, and Weebly, making it a great option for e-commerce businesses. Amazon, Google, and Lyft all use Stripe in some capacity, according to the company's website.
An initial look at the company's offerings can be confusing, as it's designed with developers in mind. It might take extra effort for those without a coding background to understand all of the features, but the effort could be worthwhile, as Stripe is used by businesses in more than 100 countries.
Stripe features
Stripe offers customer interfaces, reconciliation, reports and insights, multiple payment options, revenue optimization, payouts, third-party integrations and support, and fraud and dispute options.
Stripe pricing
There are two payment models for Stripe.
Integrated: This model has a fee of 2.9% plus 30 cents for every successful card charge. You also get access to a complete payments platform with pay-as-you-go pricing.
Customized: Stripe can create a system that works best for your business to receive payments. The price depends on how that plan is set up.
These pricing plans can help your small business save money. Particularly if you run an online business, Stripe is a fantastic PayPal alternative. 
Square
Square is our choice as the best credit card processor for small businesses. Square's ease of use sets it apart from other PayPal alternatives. The fees and pricing methods are transparent and easy to understand, and it doesn't lock you into a long-term contract. It makes transactions simple, which is critical to the success of small businesses. If you run a small business and want a different credit card processing solution from PayPal, you should seriously consider Square.
Square features
Square lets you customize the platform to your business. It also emphasizes security, which can provide peace of mind to small businesses and their customers. Between the simplicity and security customization options, Square is one of the best PayPal alternatives.
Square pricing
You pay a standard processing fee of 2.6% plus 10 cents on all contactless payments, swiped payments (including with magstripe cards), and payments with inserted chip cards. It costs 3.5% plus 15 cents to process manually keyed-in payments.
Venmo
Venmo is one of the better options for peer-to-peer payments. If you're looking for a PayPal credit card processing alternative for your business, Venmo isn't for you, but it is a solid choice if you're looking to quickly transfer money to someone else.
Venmo features
Venmo allows users to add their debit card and bank account information. You can accept payments from peers and quickly transfer those to any of the bank accounts associated with your Venmo account. If you want, you can add multiple bank accounts or cards to your account. You can also leave money in Venmo to use the next time you make a transaction on the platform.
You can make your Venmo transactions public, which also allows you to see transactions from people you know. Some people enjoy this social aspect of Venmo, which is amplified by the number of users on the platform (over 52 million).
Venmo pricing
You might pay a few minor fees when using Venmo, such as $2.50 for an out-of-network ATM withdrawal, but most of its services are free.
Payoneer
Another good option for international payments, Payoneer makes it easy to collect payment in multiple currencies and bill clients overseas. Local currency accounts are available for businesses in the U.S., Canada, the U.K., China, Australia, Japan, and certain European nations.
Payoneer can be particularly useful for freelance workers, as they often work for international clients and can easily send those clients invoices with Payoneer. It's also a good option for companies looking to hire overseas freelancers.
Payoneer features
Payoneer allows single or mass payouts, as well as the ability to receive payments and withdraw funds. It has a partner network and supports integrated, third-party, and escrow payments. Payoneer also includes API support.
Payoneer pricing
To withdraw funds from your local bank account with Payoneer, you will pay up to 2% above the market rate at the time of transaction. To withdraw funds from another bank account in the same currency, you will pay $1.50. To make payments to others who do not have a Payoneer account, you'll pay a fee of 1% to 3%, depending on the payment method (ACH, credit card, etc.).
Shopify Payments
Shopify Payments is another quality option for online businesses. Shopify can integrate easily with your store and has a wealth of expertise in the e-commerce industry. Since Shopify Payments allows you to start accepting online payments without integrating a third-party payment provider, it makes the process simpler than many other options. Setup isn't difficult, and the overall usability of Shopify Payments makes it a good alternative to PayPal for online sellers.
Shopify Payments features
Shopify Payments has the basic payment features that you'd expect from an e-commerce provider, such as inventory management, web design tools, customer service, hosting, security, social selling, and shipping features.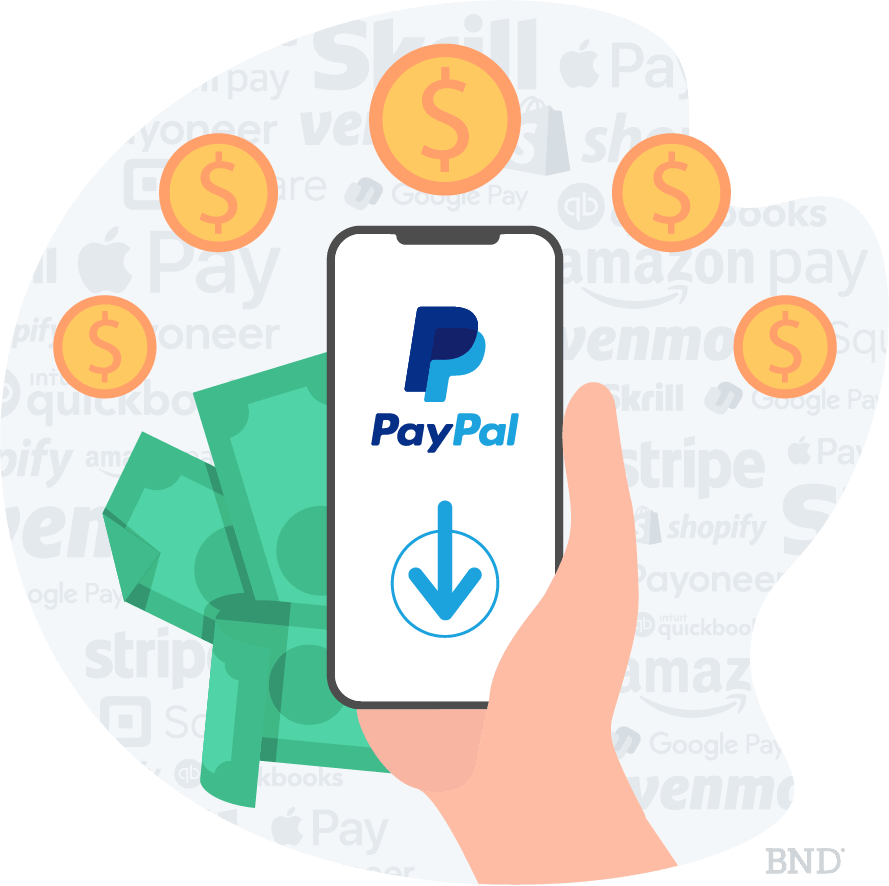 Shopify Payments pricing
Pricing varies based on the Shopify service plan you use. Here is a breakdown of its e-commerce plans:
Basic Shopify: $29 per month; 2.9% + $0.30 per transaction
Shopify: $79 per month; 2.6% + $0.30 per transaction
Advanced Shopify: $299 per month; 2.4% + $0.30 per transaction
Shopify Plus: Starts at around $2,000 per month; $2.15 per transaction
QuickBooks Payments
QuickBooks is the accounting tool of choice for many businesses. QuickBooks Payments comes integrated with your QuickBooks accounts, so getting it up and running is a pretty simple process, especially if you already use the accounting software.
QuickBooks Payments features
QuickBooks Payments allows you to accept mobile payments, send invoices via desktop computer or mobile app, set up recurring billing, and get real-time alerts when customers view or pay invoices, among many other functions.
QuickBooks Payments pricing
There are no monthly or setup fees for QuickBooks Payments. Per-transaction rates do apply:
1% on bank transfers (ACH payments), with a $10 max
4% on swiped cards, 2.9% on invoiced cards
4% on keyed-in transactions, with a $0.25 per-transaction fee
Skrill, Stripe, Square, Venmo, Payoneer, Shopify, and QuickBooks all offer viable PayPal alternatives.
What is PayPal?
PayPal acts as a digital wallet. You can store credit card and debit card information in your account to make payments online. You can also pay by storing bank account information in your PayPal account. These different payment methods are stored in your account, and you can use them in online shopping.
Security, speed of transactions, and PayPal rewards are three of the biggest selling points for the company. The security aspect is especially important. PayPal emphasizes its high security when you give your information to it, and how it keeps your personal information secure when you make online payments. As the video linked above explains, that's safer than providing your name, email address, living address, and credit card information on all the sites you purchase from. Your bank account information is also secured within PayPal, decreasing the likelihood your information will be stolen. PayPal also offers in-store payment options for users. 
[Interested in credit card processing for your business? Check out our reviews and best picks.]
PayPal can help you exchange cash with other individuals or donate to charity. PayPal also has diverse uses for businesses, which can accept PayPal as a payment method on their e-commerce sites and even implement PayPal invoicing features if needed. We consider PayPal a great credit card processor for low-volume transactions. 
The business features of PayPal are widely used, which is part of what makes a PayPal account valuable for consumers. According to its website, 19 million merchants use PayPal to help grow their business. It's a versatile platform used by many, as the merchant account numbers indicate.
Other options to consider
Additional payment options include Google Pay, Amazon Pay, and Apple Pay. Each of these platforms allows consumers to make fast and easy purchases in stores and online.
Google Pay 
Google Pay allows users to make purchases in stores and online using near-field communication technology. It has also added the ability to make peer-to-peer payments.
Amazon Pay 
Amazon Pay makes sense for businesses or consumers who frequently use Amazon. According to the company's website, Amazon Pay is automatically activated for people who have Amazon accounts, accept the Amazon Pay user agreement, and make a purchase with Amazon Pay on a third-party site. If you frequently make purchases online, especially on Amazon, Amazon Pay is a good alternative to PayPal.
Apple Pay
Apple Pay is a sensible option for online shoppers looking to make the process easier. In addition to payments on the web and within apps, Apply Pay allows peer-to-peer transfers. [Read related article: How Your Business Can Accept Apple Pay]
Depending on your needs, Apple Pay, Amazon Pay, or Google Pay might be a suitable PayPal replacement.
What to consider when evaluating PayPal alternatives
Different alternatives will work best for different businesses, but there are a few things each company or consumer should consider when evaluating which PayPal alternative will best suit their needs:
Transaction fees
Monthly fees
Niche services

For example, could something like WeChat Pay, which is designed for connecting Chinese customers with business overseas, be useful to your business?

Saving money

Is your goal to save money with the PayPal alternative, or are you willing to make bigger payments for a more tailored service?

Integrations

Does the alternative easily integrate with your online business?
When deciding whether a certain PayPal alternative is right for you, consider the fees it charges on both a monthly and per-transaction basis, and how well it integrates with your business.
The bottom line
There are dozens of PayPal alternatives, and all of them have strengths and weaknesses when compared to PayPal. A final decision requires thorough research and an understanding of what you or your business wants from a PayPal alternative. We recommend starting with the list above when making a change.
Marisa Sanfilippo contributed to the writing and research in this article.
Read the full article here