Rippling Editor's Score: 95/100
| | |
| --- | --- |
| Customer service | 80 |
| User interface | 100 |
| Benefits offerings | 100 |
| Payroll functionality | 95 |
| Pricing | 100 |
Why Rippling Is Best for Growing Businesses
Rippling provides a scalable and intuitive platform with a wide range of PEO services. Credit: Rippling
Rippling is a scalable PEO service that is well suited for growing businesses. Adding a new employee to the platform takes only a few minutes and is a seamless process on the employee side as well. If growing businesses are adding new locations or hiring remotely, Rippling can handle local tax registration and configure different labor laws and minimum wages for employees across various states.
The transition between Rippling PEO and Rippling HR is also incredibly quick and seamless, so this provider is a good choice for growing businesses that expect to eventually outgrow a PEO model. Some other services, like the one featured in our Papaya Global PEO review, work only as a PEO and cannot transition to a software-only service. This works well for businesses that aren't scaling and have consistent needs, but growing businesses may want to transition to an in-house HR team as they expand. Rippling offers the convenient option to migrate services to its HR software at that point.
Pros
Administrators can run payroll or onboard a new hire in about 90 seconds, according to Rippling.
Rippling provides strong compliance support for multistate organizations.
Growing organizations can easily turn off the PEO services and switch over to the Rippling HR platform in minutes.
Cons
Rippling does not currently possess IRS or ESAC certification.
You must have a team of at least five employees to work with Rippling.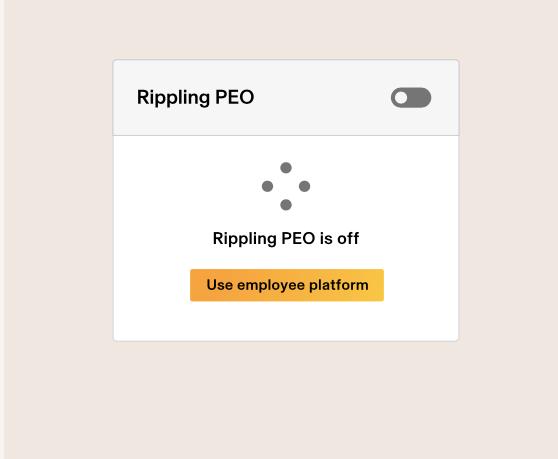 Rippling is a PEO service that is meant to be outgrown, so companies can easily switch off the PEO services and use only the Rippling HR platform. Credit: Rippling
Rippling offers month-to-month workers' compensation options so that growing businesses can easily adjust their plan as their needs change.
Usability
Rippling delivers a great user experience. The interface looks notably more modern than those of legacy PEOs, like ADP. Rippling PEO customers have access to Rippling's user-friendly HR platform to complete HR tasks, run payroll, or view detailed reports and data insights.
Administrators can use the "Quick Action Springboard" on the left side of their dashboard to quickly jump to common tasks, like onboarding hires or reviewing time-and-attendance reports. The home dashboard keeps everything organized with easily accessible to-do lists and deadline tracking.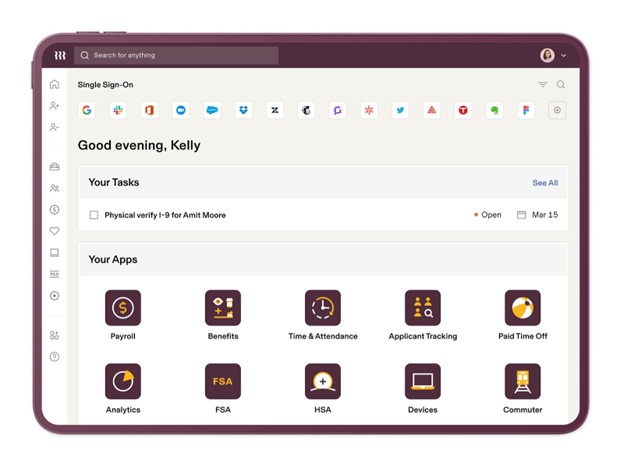 Rippling features a user-friendly dashboard with a modern look. Credit: Rippling
One unique feature of Rippling's platform is the expansive reporting tools. PEO customers can create custom reports and data visualizations to monitor company or employee data and activity. Administrators can choose from six report types, each of which offers tons of customization options.
Rippling also provides IT and device management features that most of its competitors lack. When onboarding a new employee, administrators can assign devices to that employee or order new devices for them. This is a great tool for growing businesses, as it takes the hassle out of purchasing new computers for employees as your business expands.
Rippling Features
| | |
| --- | --- |
| HR services  | Rippling offers applicant tracking, e-verification, automated employee onboarding, document management, employee records and remote device management. |
| Payroll and tax management  | With Rippling, you can track employee hours, automate your payroll, pay employees and have the service file payroll taxes for you. |
| Employee benefits administration  | Rippling can administer enterprise-grade benefits and pay-as-you-go workers' compensation coverage. |
| Risk management and legal compliance  | Stay compliant with automatic state and local tax registration, mandatory workplace-safety posters, ACA, COBRA and minimum-wage laws. |
| Employee training and development  | As a Rippling client, you gain access to hundreds of training tools and courses, as well as integrations with learning management systems. |
HR Services
Rippling can help businesses with standard HR services, like recruiting and onboarding employees, tracking applicants, running background checks and sending offer letters. The company also has document management systems, task management tools and e-verification capabilities.
One feature that differentiates Rippling from other PEOs is that you can create customized hiring workflows. These workflows can automate your hiring and onboarding process, thus enabling you to quickly onboard new hires regardless of where they are located. This can save growing businesses a ton of time when they're expanding their workforce or opening offices in new locations.
Rippling creates a record for each employee that centralizes their HR information (e.g., personal details, signed documents, jobs, payroll information, insurance selections, performance measurements). This can be especially helpful for multilocation businesses that need one portal for viewing their employees' data.
Another unique feature is remote laptop management. With Rippling's device management capabilities, you can remotely wipe and lock devices, track employee security status and view application usage. This is an ideal feature for organizations that need to help employees or secure devices remotely.
If you like Rippling's device management features, you might be interested in one of the best employee monitoring software providers we've reviewed.
Payroll and Tax Management
With Rippling, users can run payroll in as little as 90 seconds. Employees can use the system to clock in and out, manually add hours worked and request time off. The platform then automatically calculates payroll information, allowing you to quickly approve and process payroll in all 50 states. Rippling can easily manage payment tasks, like direct deposit, wage garnishments, deductions and reimbursements. It also offers workers' compensation coverage and payroll tax administration.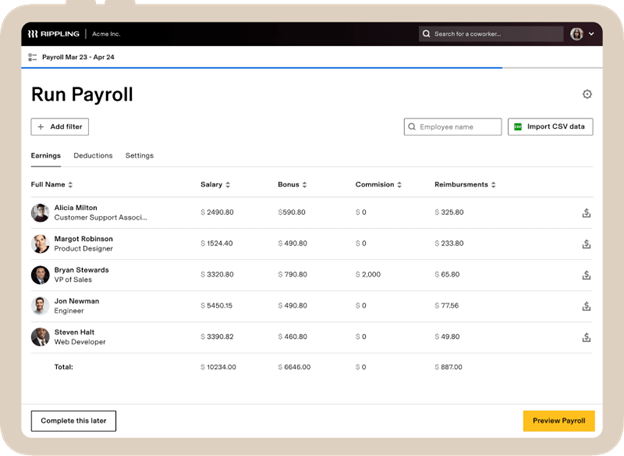 Rippling speeds up the payroll process. According to the company, a payroll run can be accomplished in 90 seconds. Credit: Rippling
Employee Benefits Administration
One great aspect of partnering with a PEO is gaining access to enterprise-level benefits for your small business. Rippling can administer employee benefits to your workforce, including medical, dental and vision insurance; retirement savings plans; commuter benefits; and tax-advantaged savings accounts (HSAs and FSAs).
Employee self-service tools enable your workers to access their benefits plans at any time, review current information, and make changes as needed. Self-service tools can be accessed via desktop and mobile devices using a web browser or Rippling's mobile application.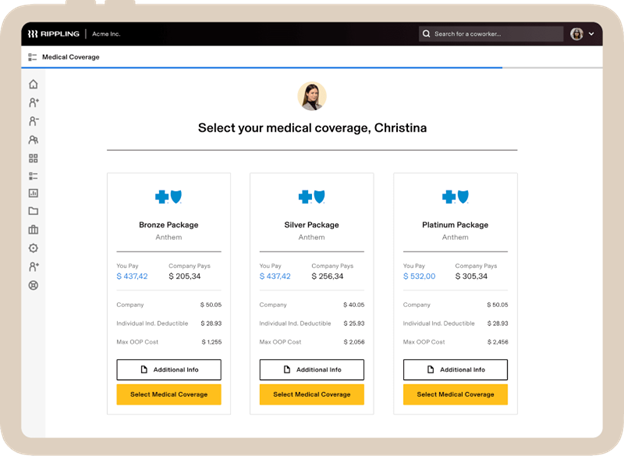 The employee self-service tools allow employees to easily select their benefits plans and understand the costs. Credit: Rippling
Risk Management and Legal Compliance
It can be difficult to stay up to date with federal, state and local laws, especially when you are managing remote employees. To help you with risk management and legal compliance, Rippling can perform automatic state and local tax registration, provide mandatory workplace posters, and manage Affordable Care Act and COBRA documentation and compliance. The company also can help to ensure you are following minimum-wage laws, which vary by state.
Employee Training and Development
Rippling helps you manage your team from onboarding to offboarding. You can track job applicants through the onboarding process and then provide them with access to hundreds of training tools and courses after they are hired. Rippling users can access pre-built training courses or create unique courses based on employee needs. The platform also integrates with a variety of learning management systems.
You can keep your team engaged with a centralized portal that allows employees to collaborate and communicate about important events (e.g., birthdays, work anniversaries, new hires).
Rippling Cost
Rippling charges a fixed-rate administrative fee. The exact rate you are charged depends on your agreement with Rippling, so you will need to contact the company for a custom quote. The specific services you need and the number of employees you have dictate how much you will pay. However, based on the company's sample pricing, you can expect to pay about $65 per employee per month.
Rippling also offers pay-as-you-go workers' compensation, which can be helpful for teams that fluctuate in size. If you need a PEO that is tailored to your specific industry, read our review of TriNet.
Rippling Setup
Setting up a partnership with Rippling is simple. You will need to contact a representative to start your enrollment process. When you're set up on the platform, you can import employee information, create automated workflows and integrate with third-party applications. Rippling offers more integration options than several of the other PEOs we reviewed, so once everything is set up, your employees will have a nicely unified user experience.
Onboarding typically takes about two to three weeks to implement. This may sound like a long time, but it is fairly reasonable for a PEO service and comparable to the implementation times of other PEO services we reviewed.
>Rippling can integrate with more than 400 third-party applications, including Zoom, Slack and background check services such as Checkr.
Rippling Customer Service
During setup, you'll work with a dedicated contact who is available by phone and email. Once your PEO service is up and running, you can use email or Rippling's self-help tools, which you can access with your login information.
Rippling users can receive very prompt live chat and email support. The company shares up-to-date data on response times on its website to back up its claims of support efficiency. If you want one-on-one support from certified HR pros, you can add the HR Help Desk feature to your plan for an extra monthly fee.
Rippling Drawbacks
One limitation of Rippling is that it is not accredited by the Employer Services Assurance Corp. (ESAC) or the Better Business Bureau, nor does it have IRS certification. However, the company still leverages ESAC regulatory and compliance tools to maintain top-level compliance. If you are looking for a PEO that is accredited by the ESAC and the IRS, you may want to consider partnering with Paychex or Justworks.
There is also a five employee minimum for businesses that want to work with Rippling. This means very small employers with teams of one to four employees cannot take advantage of Rippling's PEO services. Additionally, many competing services include HR consultation and phone support in their core services without charging an admin fee. If you want more personalized support, check out our ADP TotalSource PEO review. Businesses that prefer around-the-clock phone support may want to read our Paychex PEO review and our Justworks PEO review.
Methodology
We conducted comprehensive research and analyzed dozens of PEO offerings to identify the top PEO solutions on the market. We watched product videos, reviewed feedback from current customers, and attended two demos with Rippling staff members to assess the platform's features and user interface.
When evaluating PEO services for growing businesses, we looked for a tool that was flexible and scalable. We were particularly impressed by Rippling because it provided the most seamless transition for businesses that grow out of a PEO. PEOs are a great interim option for growing businesses, but many do outgrow PEOs fairly quickly. Rippling offers a flexible contract and a quick transition for customers who wish to turn off the PEO service and move to a software-only package.
Rippling FAQs
What is Rippling PEO?
Rippling PEO is a professional employer organization designed for small and midsize businesses. The PEO provides helpful tools for growing businesses, including multistate compliance tools and efficient onboarding processes.
Does Rippling PEO have IRS certification?
No, Rippling is not an IRS-certified PEO service. It also does not have ESAC accreditation.
How can you turn off Rippling PEO?
Rippling makes it easy to switch off the PEO portion of the company's services. Administrators can toggle off the PEO features within the platform. Then, administrators and employees can continue to use the Rippling HR platform with the same credentials.
Overall Value
We recommend Rippling for …
Small and midsize businesses.
Organizations that need scalable PEO services.
Businesses with remote and dispersed workforces.
Businesses that want to start with a PEO and eventually transition to a stand-alone HR platform.
We don't recommend Rippling for …
Large international enterprises.
Businesses that need an IRS- or ESAC-accredited PEO.
Read the full article here